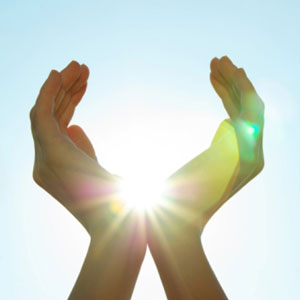 Now that the temperatures are rising, we get to spend more time outside!!! Yay for Winnipeggers! Most of us are taught to cover up when the sun comes out, this is partly true because we do not want to burn our skin, however getting your daily dose of vitamin D is very important as well. The best time to do it is in the middle of the day when sunshine is at it's peak, depending on your skin color this will factor into the amount of time you expose your skin to direct sunlight.
So now that you've basked in the sunshine and soaked in those healthful UVB rays that synthesize into vitamin D in your body, what are you to do for the rest of the time that you spend outdoors to protect your skin? The usual options are to cover your body; this means long sleeves and pants, but some days its far to hot to do that! Wear a hat, yes this is a good idea! Find some shade, another great idea and don't forget your sunglasses to protect your eyes. But some of us want to stay out in the sun as long as possible. That's when we reach for our sunscreen. Sunscreen is a great method and easy, it is an important tool when we risk burning our skin whilst out too long under the sun. However, there's a caveat, many sunscreens contain not so friendly ingredients that can be absorbed into our bodies through our skin. Yuck!
There are two types of ingredients in sunscreens that function as either mineral or chemical UV filters that protects the skin. Each offers a different solution for protecting our skin under the sun.
The most common sunscreens that we see on store shelves use chemical filters. These sunscreens usually contain a combination of two or more of the following active ingredients: octisalate, octocrylene, oxybenzone, avobenzone, homosalate and octinoxate. Some products combine zinc oxide with chemical filters; therefore, your toxic load is lessened. As a result, many sunscreen chemicals can be absorbed into the body via the skin and can be found in blood, breast milk and urine secretions. According to most studies, the main concern with chemical filters is that they may cause hormone disruptions in the body, hormones are in charge of many functions in the body and if they are not performing properly, problems may arise.
Mineral sunscreens use zinc oxide and/or titanium dioxide, which provide a barrier from UV rays on the skin. These minerals do not penetrate or get absorbed by the skin as the particles are too large, therefore they are much safer. There are many products that do offer these sunscreens with these minerals so be sure to look! Or you can simply make your own!! Many of the ingredients you may already have, otherwise they are easily obtainable. There are many recipes online, the following is a basic one that can easily be adapted.
Your very own homemade sunscreen recipe!!
Supplies:
10 drops carrot seed oil
1 tbsp pomegranate oil
¾ cup coconut oil
2 tbsp non nano zinc oxide
2 tbsp shea butter
Glass jar
Saucepan
water
Directions:
Add carrot seed oil, pomegranate oil, coconut oil and shea butter in glass jar.
In a saucepan add 2 inches of water then warm on stove over medium/low heat, put jar in saucepan and stir contents until ingredients start to melt (water does not need to be boiling, just hot enough so that contents are melted together.
Once all ingredients are combined, remove glass jar from water, add zinc oxide powder and stir well. Store finished product in a cool place.
Note:
Approximate SPF value not determined, sunscreen is not water proof; please reapply after bathing in water
Disclaimer: This article is for information purposes only, it is not intended to diagnose, treat or prevent any illness or disease. Please consult a professional for your healthcare needs.