Meet Dr. Terence Coutou
Giving Back To The Community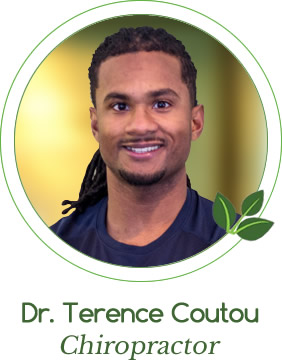 Dr. Coutou is excited to return to his hometown of Winnipeg to give back to the community that provided so much to him growing up. As a graduate of Canadian Memorial Chiropractic College, Dr. Coutou has obtained the skills, knowledge, and clinical experience to best serve those in need of chiropractic care.
Growing up in Winnipeg, Dr. Coutou was immersed in the football community, he excelled to the level of university athlete on the Manitoba Bisons. During this time, Dr. Coutou obtained a bachelor's of kinesiology, achieving Academic All Canadian honours. His practicum experience for his bachelor's degree was involved in providing athletic performance training to Bison athletes as a strength and conditioning coach.
Part of Your Health Care Team
Dr. Coutou is forever grateful for those involved in his health care and wellbeing growing up as an athlete. An integral part of this team was his chiropractor. Chiropractic benefited Dr. Coutou by optimizing his functionality in life and sport, rehabbing injuries obtained, and supporting his nutritional and fitness goals along the way. Dr. Coutou would be honoured to become a part of your health care team!
OUR CHIROPRACTIC CARE »

Away From The Clinic
Dr. Coutou is dedicated to helping anyone and everyone reaching their health goals. On his time off, he enjoys cycling, exercising, and being with family. He is looking forward to rediscovering the city that he is passionate about after living away from home. He hopes to become involved in philanthropic and volunteer endeavours, as he believes giving back is a pillar of the community.
Please contact us to schedule an up coming appointment with Dr. Coutou. He would be grateful to serve you.

Dr. Terence Coutou | (204) 414-9104