Meet Dr. Riley Klassen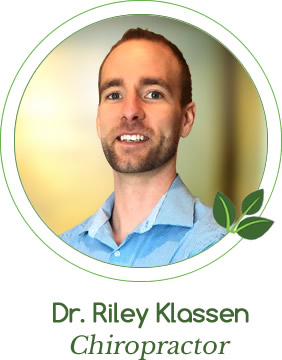 You don't realize how important health is until you lose it. When you've lost your health, it affects every aspect of your life.Dr. Riley Klassen
At 10 years old, after multiple injuries and falls, Dr. Klassen started developing chronic migraines. He was missing school; his grades began to slip, and he had to give up sports. Nearly every aspect of his life and his family's life were affected. They all were exhausted.
A CT scan would be done to figure out exactly why the migraines were there. Once doctors determined why they were present, the migraines would go away. The CT results also came back normal. Dr. Klassen's family was told there was no known cause as to why he was having the migraines and no cure.
Frustrated and determined that there was a reason for these migraines, his family searched for an answer.
Experiencing the Benefits of Chiropractic
Dr. Klassen's family was then introduced to chiropractic by another family. After meeting with the chiropractor, he said that he found what was causing the migraines. The process began to start to correct the cause of the migraines.
Over time the migraines started to dissipate and Dr. Klassen began to get his life back. He was able to participate in sports again, no longer missed days of school and his grades started to improve. Dr. Klassen even got a scholarship to play basketball in North Dakota.
Obtaining a Chiropractic Education
After seeing these changes in his life, Dr. Klassen decided to become a chiropractor and dedicated his life to teaching families how to get these same amazing results in their health!
First, he earned a Bachelor of Science in Health Sciences from Valley City State University in North Dakota. Then he went to Northwestern Health Science University, where he received of Doctor of Chiropractic.
Dr. Klassen continues to get adjusted on a regular basis and since the day his migraines went away he has not had a single migraine.
Enjoying and Supporting the St James Community
Dr. Klassen is a relaxed, fun-loving person. He enjoys spending time in the outdoors going to his cabin, hiking, biking, fishing and snowboarding. His family is important to him, and he spends much of his spare time with them.
He started volunteering while practicing in Calgary to adjust homeless people at a shelter there and does the same at the Siloam Mission in Winnipeg. Westwood Family Chiropractic runs Best Christmas Ever, a program for local families that have fallen on hard times through no fault of their own. Each year, we find a family to support and put up a giving tree in our office with notes of what the family needs for the holiday season.
Our patients and community members come in, grab a note from the tree, buy the gift and leave it at our office. We bring it to the family's house on Christmas Eve, surprising them with the best Christmas ever. We welcome you to help us support a local family every holiday season! Learn more by visiting www.bcemovement.org.

Dr. Riley Klassen | (204) 414-9104