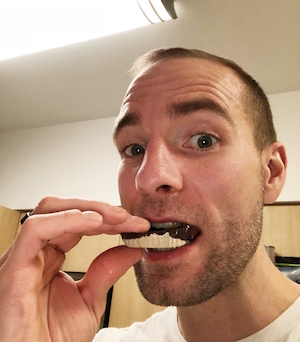 Dairy free, nut free, guilt free, keto-friendly fat bombs are easy to make and fit the bill when you're craving something sweet!!
Ingredients
14 cup sun flower or pumpkin seed butter
14 cup coconut cream
3 tablespoons coconut oil
14 teaspoon fine sea salt
14 drops liquid stevia
1 teaspoon vanilla extract
6 squares dark chocolate
Instructions
Mix the seed butter of your choice, coconut cream, 2 tablespoons coconut oil, fine sea salt, 8 drops of stevia and vanilla until smooth.
Distribute the mix into paper cupcake molds in any size of your choice. Place the cupcake molds on a tray and place them in the freezer.
Melt the chocolate with 1 Tbsp of coconut oil and 6 drops of stevia in a small pot on the stove. Keep stirring as to not burn the chocolate, once melted allow to cool for about 10-15 mins.
Once chilled take the fat bombs out of the freezer and add a layer of the chocolate on each of them. Put the fat bombs back in the freezer on a level surface and freeze until hard.
You may store the fat bombs in a container in the freezer until ready for use or they can also be stored in the fridge for short time storage.