According to a major study that was released recently, the Canadian health care system could spend $12.5 billion less in health care and could save 23,000 Canadian lives if we just started to supplement with vitamin D. At Westwood Family Chiropractic, we believe that this vitamin is one of the most important supplements that every person should be taking.
Decreasing Levels Among Canadians
The study also revealed that vitamin D levels were declining among Canadians, even more than when they did the study in 2010. Only about 10% of Canadians have proper vitamin D levels. One-third of Canadians have less than the minimal amount that we are supposed to have for general overall health.
You can read the complete study here: Estimated economic benefit of increasing 25-hydroxyvitamin D concentrations of Canadians to or above 100 nmol/L
One of the big culprits is the lack of sunshine because we live in such a northern climate. From November to May we are not getting much sun exposure. We've also gotten the message to stay away from the sun due to the risk of skin cancer.
So many people are slathering on sunscreen and spending less time in the sun. As a result, vitamin D levels can plummet. Of course, you never want to get a sunburn, but even a fair-skinned person can spend 10 minutes a day in the midday sun without sunscreen to get the benefits. Optimal levels are between 50-70 ng/ml . You can have your levels tested to determine if you need to supplement.
The Benefits of Vitamin D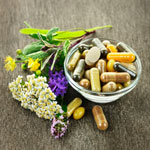 Research shows that having optimized vitamin D levels are critical when it comes to the possible prevention of cancer, heart disease, dementia, diabetes, MS and osteoporosis. Vitamin D also can
Boost your immune system
Increase your energy
Enhance your mood
How to Get Enough
Though the primary source of vitamin D is through the sun, it's a good idea to supplement as many of us can't get sufficient time in the sun. Certain foods are rich in vitamin D like fish and eggs, but it's far easier to get the suggested amount via supplements.
We sell Innate Choice vitamin D supplements at the practice. These are a top-quality brand that only practitioners can carry. Though other brands may be cheaper, you get what you pay for. It's worth spending a bit more to get a superior quality product. And supplementing is quite affordable. To get 4,000 IUs of vitamin D a day works out to about 20 cents a day. Think about it: only 20 cents a day to boost your health and save our health care system!