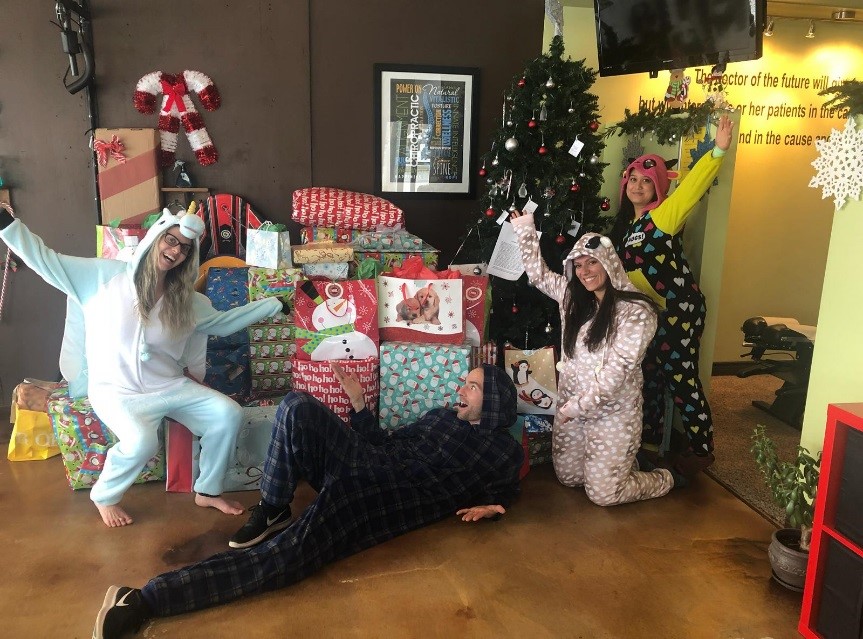 Another Christmas season has come to a wrap (no pun intended), the holidays revolved around spending time with family, feasting and of course gift giving. For those less fortunate the holidays can be stressful and difficult as some families try to uphold all the fun that revolves around the holidays but can't due to falling on hard times at no fault of their own.
For the past 4 years at the clinic we have been fortunate enough to partner with an organisation called Best Christmas Ever.
The BCE movement, how it came to be: In 2010 a dad who was battling Ulcerative colitis had finished wrapping gifts for his son that he had purchased at a convenience store, life had been very difficult for them that year. However, on day he got a knock on his door and three family members came bearing gifts, what was to be a worst Christmas ever was now the best Christmas ever!
Wanting to pay if forward Don (the dad) and his good friend Jason rallied a small group of friends together to give a BCE surprise to a local family.
This past Christmas we reached out to our patients to nominate a family that they felt had fallen on hard times at no fault of their own. We received about 6 nominations, now the task at hand was to choose our deserving family. After reading all the nominations we came to a consensus!
A short bio of the family we chose: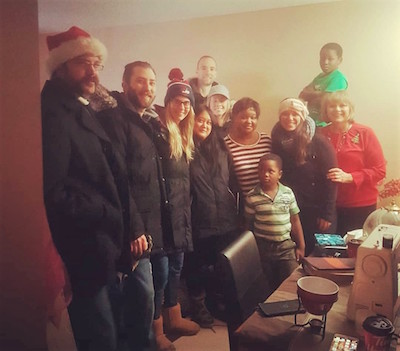 This single mother of 2 boys fled her home country of Sierra Leone in 2016; where both her and her 2 sons aged 11 & 6 were and remain in danger. This strong woman has faced many challenges since her arrival to Canada. Her tenacious love for her boys is what keeps her working against all odds. She is currently employed but struggles to obtain full-time work. She does not rely on any government service as she often expresses that she does not want to be a burden on society. This woman has a heart of gold and model's generosity. Out of what little she has, she is always willing to give to others. Despite her very difficult circumstances she radiates a positive and joyful spirit. This family exemplifies the type of family that is deserving of the Best Christmas ever. There household income is less than $16,000.00 per annum; she is listed for subsidized housing but currently pays $1000.00 per month just for rent. This mother relies heavily on donations, food banks and any and all other form of used goods.
Now that we had chosen our family, we set up a meeting with the nominator and asked for more family history and what items does the family need that would offer relief to them. We now had a list of items, we decked the halls in the office and trimmed the tree. On the tree and around the office we put up tags that indicated what the family needed. We shared the story with our dear patients and reached out to local businesses in the community.
Yes, the holidays can be very commercialised, and people can get wrapped up in that aspect of it.
But the holidays do remind us that some of our fellow humans may be going rough times and that Christmas may just be "another day". Fun fact: Manitoba is the most charitable province in Canada!
Us 'tobans understand especially that many of us have more than we need and can offer some reprise to those that need help; because to help our fellow human not only enriches their lives but also ours. The act of selflessness is a true testament to the human spirit, to survive in this world people must come together, and that we did for our BCE family!!!
Our patients and community rallied around this deserving family, patients picked out a tag off the tree, bought the item and brought it back to the office. Dr. Klassen and his team reached out to local businesses', through that effort Oxford learning centre offered the mother 50 hours of education instruction, the Holiday Inn offered to interview the mother so that she could get more hours of work.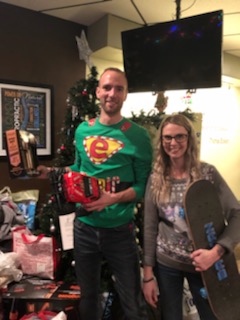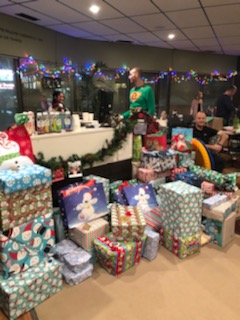 By December 17th our Christmas tree exploded!!!
On December 19th we had our wrapping party!!! With the help of staff, patients and our nominator the gifts we're wrapped and tagged. Lots of them!
The big day!!!! The 24th was the day of the drop off! The anticipation was so built up for the past couple of weeks, the staff loaded up their vehicles and drove to the family's apartment. Everyone grabbed an arm load of gifts and headed up stairs to the family's apartment door. Dr. Klassen knocked on the door, the mother asked, "who is it"? Dr. Klassen replied, "Christmas elves"!!! The mother opened the door, we introduced ourselves and said, "we have a lot more!". The mother was shell shocked!! The two boys we're very surprised and excited to see the gifts piling in. We let the boys open one gift each while we were there as well the mother. Everyone involved was very emotional.