Auto Accident Chiropractor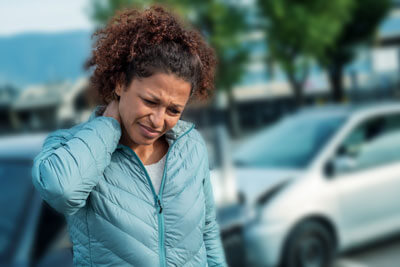 Did you know that if you're injured in an auto accident in St James, your chiropractic care visits are completely covered by MPI? Under our province's no-fault system, MPI pays for the accident benefit claims of those injured in Manitoba auto collisions. For your convenience, we can direct bill MPI. You also don't need a referral to get chiropractic care at our practice.
At Westwood Family Chiropractic, we're proud to offer focused and custom chiropractic care to patients of all walks of life who've been injured in an auto accident-no matter how serious or minor.
Care for Accident Victims
Getting in a car accident is never planned-but overcoming injuries after should be. Our team has welcomed patients just like yourself over the years experiencing complaints after an auto accident like:
Neck pain (whiplash)
Upper back pain
Numbness and tingling in the arms
Wrist problems
Knee pain
Headaches
And more
At our practice, we provide a variety of different chiropractic techniques and modalities that are built for your specific needs and planned accordingly to bring you the results and wellness you're seeking.
A car accident effects nearly every individual differently. For some, serious pain begins right away. Others may feel completely fine initially, but slowly deteriorate as time goes on. The best way to ensure your injuries are addressed after an auto accident is to visit our practice.
We'll begin with getting to know you and the type of accident you were involved with. We'll take a complete health history and perform several different exams, including spinal palpation, digital x-rays if needed, neurologic testing and orthopedic testing. From there, we'll be able to identify the issue(s) going on in your body, and develop a custom plan to restore function and improve wellness.
Your recommended care plan may include:
Focused stretch and exercise therapy
Rehabilitation and strength training
Frequently Asked Questions
Have questions not answered below? We're happy to address them with you in person or over the phone-simply give us a call.
Do I need a referral for care?
No, you're free to visit us right away after an accident-no referral from a specialist or primary care physician is required.
It's possible, though many of our patients enjoy how they feel immodestly after an adjustment. Our ultimate goal is to bring you out of pain and into wellness as quickly as possible. You may feel initially sore after your first couple of adjustments, but that will quickly subside as function is restored to your body.
How much should I expect to pay for care?
Because MPI covers the cost of chiropractic care relating to an auto accident, your care won't cost you a penny out of pocket. That's why there's simply no reason to not visit us after an accident.
How long will it take me to feel better?
Because the goals and injuries of each patient are unique, it's difficult to say until we examine you in person. At your first appointment, we'll be able to give you a much better idea of your care plan and what it will take to restore optimal function. For most patients, they're feeling better or at least somewhat improved after a couple of weeks with us. In fact, many patients decide to continue visiting us after they're healed because they want to maintain their natural health and wellness for years to come.
Schedule Your Visit Today
We'd love to welcome you or your loved ones into the practice to help you get back to feeling and functioning at your best after an accident.
If you'd like to learn more about our focused offerings for your injuries, contact us today to book an appointment.
We can't wait to welcome you into our care. Get started today!
CONTACT US

Auto Accident Chiropractor in St James, Winnipeg MB | (204) 414-9104