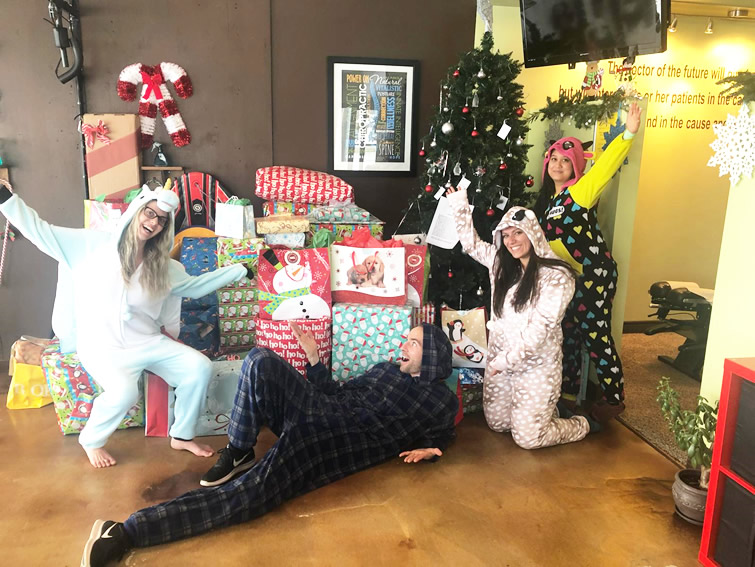 It should come as no surprise that our clinic family loves being involved in the community. From hosting events, to offering classes and seminars, we love to share knowledge and share warmth with everyone we meet.
During the holiday season we proudly partner Best Christmas Ever, every year! Best Christmas Ever is a volunteer run organization that aims to help families who have fallen on tough times, through no fault of their own. They collaborate with businesses like us to help give a family in need the absolute BEST Christmas they've ever had.
The Best Christmas Ever organization started back in 2010, when Don Liimatainen, a single dad battling Ulcerative Colitis was looking at an empty Christmas tree, wondering how he was going to tell his young son that Santa Claus wasn't going to be visiting them that year. Later that night, he heard a knock at the door and found his mother and some other relatives with two bags full of gifts. He was absolutely surprised, but blown away by the generosity and love of other people who have come together to help someone who is down and out. He realized that he had been expecting this to be the worst Christmas ever… but thanks to those who showed up with gifts it had become the BEST Christmas ever!
He decided to pay it forward. He and his friend Jason rallied together a small group of friends to give a surprise Best Christmas Ever to another family and decided to keep it going. Since then, Best Christmas Ever has expanded throughout the United States, Canada, and even Costa Rica.
Westwood Family Chiropractic has been happily participating in Best Christmas Ever since 2015.
So how does it all work? In November we asked community members to nominate families or people they knew who were going through a rough patch through no fault of their own, and would be deserving of a Best Christmas Ever. We then went through the nominations to determine who we believed we could help out the most. This is honestly the hardest part, because so many people need help.
The family we have chosen to receive this years Best Christmas ever is a single mother of 4 who has really had a rough year. They discovered that the house they were living in was full of black mold which had been causing serious health problems for one of her kids. One of her other children also needed medical care due to an injury. Between running back and forth for doctors appointments she ended up losing her job, which meant they lost the house they were living in, and it led to the breakdown of a relationship she was in. Some family and friends stepped up and the family was separated into a few different houses, but they had to leave everything they had behind. Because of this there have been additional issues keeping the kids in school, as one goes to a school inside the city while the other two go to school in their local town. Recently the mother was accepted into a housing project and finally the family is together under one roof, but with barely anything in it. The mother is trying as hard as she can to find work and provide for her kids. As a community we will be able to provide a little bit of relief from this stressful situation and help her get back on her feet.
The next step is to work closely with the nominator to figure out what it is that the family needs the most, whether its food, clothing, toys, or work supplies. Once we have that list we put up a Giving Tree in the clinic which is covered in Christmas tags with the names of what the family needs written down on them. From there, members of the community can take a tag off of the tree, purchase the item, and bring it back to put under the tree.
Just before Christmas we have a huge wrapping party that everyone is welcome to attend; and with festive Christmas music and holiday sweaters we wrap the gifts as a group and enjoy some of that holiday cheer for ourselves.
After all the gifts are wrapped and Christmas Eve approaches, our staff will pile all of the gifts into our cars, grab our nominators and head to the family's house. They, of course, have no idea that we're coming. We knock on the door and when asked "Who is it?", we answer back "CHRISTMAS ELVES!" And proceed to fill their house and give them the Best Christmas Ever!!
This is what Christmas is all about, coming together as a community to spread love, joy and cheer to make sure everyone gets to feel warm and fuzzy this holiday season. So we're going to need your help. Our Giving Tree is proudly standing up in our office. We need you to help us gather the things on the list so come in to the office at any point during our open hours. Have a chat, take a tag, and bring back your gift and join us a little bit later for that awesome wrapping party.
We're ready to give this family their Best Christmas Ever… are you ready to join us?