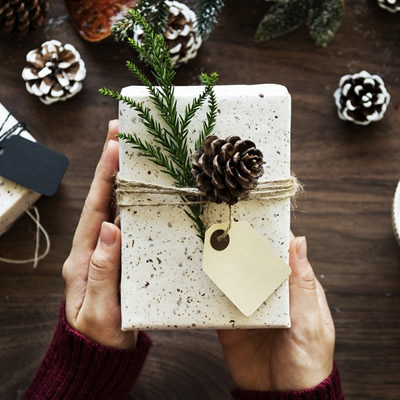 Christmas can be one of the most hectic times of the year. You might find yourself preparing to rush to and from different family dinners, lunches and brunches, gatherings with different groups of friends, taking kids to holiday activities, sprinting through a crowded mall or craft sale hoping that there is still stock left and that you'll be able to afford it, doing what seems like endless amounts of baking and sometimes even travelling during harsh winter conditions.
Just thinking about it is enough to raise your heart rate and make you feel like you're stretched too thin.
The Holidays should be about connection and the enjoyment of the present moment. But instead it's easy to find ourselves at an event thinking about how many other things we have to get done, and we miss out on some of the best moments! Christmas shouldn't bring so much undue stress. In order to keep ourselves happy and healthy it is sometimes necessary to set boundaries that will keep us from pushing ourselves too hard emotionally, mentally and physically.

Boundaries don't have to be harsh limits, just promises we make to ourselves so we can stay as happy and healthy as possible!
Some boundaries you may want to consider for the Christmas Season are:
"I will choose healthier options/I will not eat out of obligation."
Christmas time is full of sugary baking, excessive spreads full of comfort foods and traditional dishes that may not contain the healthiest of ingredients. You don't have to restrict yourself to one cookie or a thimbleful of mashed potatoes, but be mindful of what you're eating. Or better yet, bring a healthier dish you really love to share with everyone!
"I will honour my needs."
Sometimes the holiday season can be painful. Whether it's the loss of a loved one, or other traumas you have experienced this time of year you need to respect your needs. Listen to your internal self and decide what is best for you. You'll likely feel more stressed if you push yourself to plaster a fake smile on your face. If surrounding yourself with supportive people will help, choose events that will provide that. If you need to skip an event, come late, or leave early then be empowered to do so.
"I will say NO without feeling guilty, and I will say YES because I really want to."
It is okay to say NO to some of the events that pop up during Christmas. Not every craft sale, recital, or gathering is going to be enjoyable for you, so why should you feel obligated to attend them? Even if something is a 'tradition', you can give yourself permission to say "no" to those events and spend your time re-charging or doing something else instead.
"I will not give more than I am able."
With all the Christmas events around you it can be easy to get roped in to giving more than you can. You don't have to do Christmas baking for every single event. You don't have to provide a gift for every charity or gathering. You don't have to volunteer your time at various events. Christmas is defined as a time of giving and selflessness but it isn't worth it if you've pushed yourself too far.
"I will spend x on gifts this year."
One of the largest stressors of Christmas is spending. Sometimes it is difficult to see that the amount of love you feel for someone doesn't directly relate to the size of the gift you purchase for them… which is why some people run into debt. Buying large and expensive gifts because we feel it is what is expected of us (or that it is the only way to show we care), can be dangerous. Don't let yourself run into financial trouble because you believe this is the only way or time to show those who are important to you that they matter.
"I will adjust my expectations to reality."
Sometimes we hold onto the hope or idea that our Holiday experiences will be everything we dream. Maybe our family members won't get into a screaming match at noon this year. Maybe your kids won't be upset over having to share something. Perhaps your extended family will finally take an interest in your work instead of mocking it. Unfortunately history often repeats itself. If this is the case for your family it is important to prepare yourself for these things to happen. Decide how you will respond to those things and honour your own feelings and needs. If this means excusing yourself from a conversation or leaving early, so be it!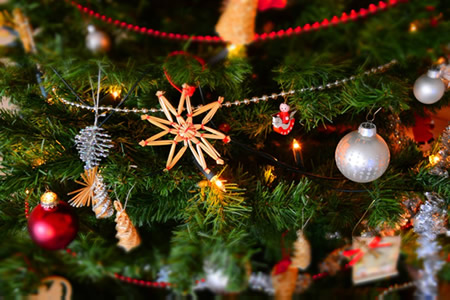 It can also help to set aside 5 or so minutes as the Holidays sweep around you to ground yourself by tuning in to your body. What physical sensations do you feel? What emotions are accompanying them? What thoughts are running through your mind? What do you need to get back to a place of comfort and peace? Being able to answer these questions will allow you to identify those uncomfortable feelings and do what you need to in order to feel peaceful again.
Setting boundaries can be hard for yourself and other people, but don't be afraid of calmly asserting them, whether its asking family members not to comment on your eating habits, or asking friends not to talk rudely about your new partner; it is okay to remind people that these are boundaries you have set. If they choose to ignore those boundaries you should empower yourself to leave the situation entirely. Conversely, if someone sets a boundary with you, do your best to be respectful of it. Their boundary is set for themselves, it isn't about you.
Christmas doesn't have to be a sprint that leaves you feeling physically, mentally and emotionally drained until mid-January. Set healthy boundaries for yourself and really sink into ENJOYING your holiday experience. You just might find that Christmas goes from being the most dreaded time of the year to your most happily anticipated time!